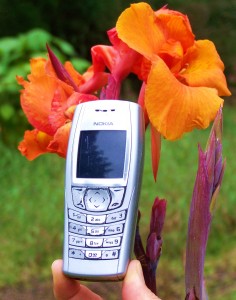 Costa Rica Cost Of Living Update: Cell Phone Bill  $7/month
I like to brag about my cell phone bill since I paid ten times that while living in the states.  But what I don't like to tell people is that the cell phone cost us $300. What made this purchase all the more worse is that it looks like a refurbished Fisher Price phone my two year old niece might play with.  Even Barbie and Ken sport better models.
Within three months all the "extra" features stopped working: calculator, alarm clock, and solitaire game.  I was left with a phone that could only make calls. (What is this…1995?).  We thought this phone would only last six months but it's been around for three years. No matter what we do, the damn thing just won't break.
Now the Central American Free Trade Agreement has passed and competition for cell plans has been introduced to Costa Rica.  Maybe I'll get a new one that texts or have apps I can download.  Or maybe I'll just stick with mine and forget about all the high falutin features. 1995 was a great year for me, do I really need more?
Best selling album 1995- Cracked Rear View by Hootie and the Blowfish