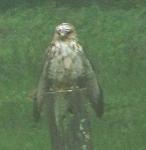 Costa Rica Cost of Living:  Sky Satellite Television with many English speaking programs- $35/month
For the past few days we noticed a baby hawk swooping across the field in front of our house. Although a little cross eyed and with wings too big for his body, he is slowly learning how to fly.  He awkwardly glides from tree to tree and occasionally dives into the grass for the mouse that always seems to get away. It will just be a matter of time until he is successful.
There is no better way to start my morning then with a cup of coffee watching my new flying friend.  Soon he will leave but I will remember him like he is today, cross eyed and clumsy, hunting for that ever elusive mouse.