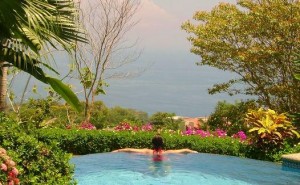 Costa Rica Cost of Living Update:  16 pound Thanksgiving Day turkey- $92 (I'll be having chicken)
New Costa Rica Business Idea- Turkey Farm
The best thing about living in Costa Rica is at any moment you can get in your car and be at a beautiful destination in a couple hours. It feels like taking a vacation…from our vacation.
One day we threw a backpack of clothes into the car and headed out to the coast.  We ended up in Dominical, a surfing town on the Pacific side of the country. I didn't bring any guide books and didn't have a clue where to stay.  My husband came up with an idea to stop at a realtor's office, since who would know better? And that's when we heard of a luxury home so lovely it made my husband determined to get a room.  The only problem was you needed to rent the entire home for $4500 a week.  A little Brooklyn Razzle/Dazzle was in order.The house was up an incredibly steep, gravel lined road.  This is the main reason I tell tourists to rent an SUV when visiting.  Some of the best adventures, and the best deals, tend to always be at the end of a dangerous side road. We park at the entrance of the gate and ring the bell.  A pleasant Tica named Maria walks out and invites us in.  We question her about the rates, but her English is not that good and our Spanish is even worse, so we wait for the owner to get back from the store.
Maria brings over coffee and sits down with us.  I love when these exchanges occur, sitting in an environment where everyone struggles to understand each other.  But somehow it works.  Small bits of information gets exchanged and we learn Maria manages the house while raising two sons. She makes wide gestures as her long black hair bounces across her shoulder. When she turns to the side she looks a lot like Penelope Cruz.
The owner of the house comes back and my husband explains that we would like to stay and asks if there is anyway she can accommodate us.  She said her last guests just left and she was closing down the house in three days to go on vacation. I could see the sparkle in my husband's eye.  She didn't say yes…she didn't say no.  There was an opportunity to make a play.  My husband started devising a strategy, the delicate area of negotiating where you don't want to go over your budget, but don't want to insult the lady.  $75 a night sounds to cheap…she will get offended and tell us to split.  $150 is to much for us… so my husband settles on $100.  He throws that out like a pitcher throws out the last ball in the ninth inning with the bases loaded.  His suggestion floats in the air for a while, not quite landing but not quite being dismissed.
"I'll make you a deal, stay three nights, for a total of $300.  You will  have the whole place to yourself. Then you just payed for my plane ticket." And with that, our one day excursion turned into three, and for the first time in my life, I stayed in a luxurious house overlooking the ocean.  My husband's Razzle/Dazzle came through.
If it wasn't for my husband I probably would never have stopped to speak with a realtor, would never would have driven up the steep road, and most definitely never have offered to pay $100 a night for a $4500 week house.  But I learned a valuable lesson with this experience.  You have got to ask for what you want, even if you don't speak the language, even if all you are carrying is a dusty backpack.  It might not always work but you never know when you will come across someone at the right time who is willing to make a deal. It just so happened my deal came with complimentary breakfast overlooking the sea.