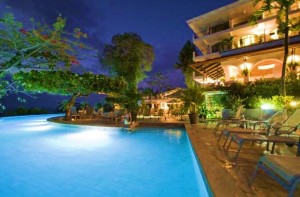 Costa Rica Cost Of Living Update:  Total to  fill up SUV gas tank- $70                            Total to fill up scooter- $6 (and much more fun to ride)
Every once in a while one wishes to stay at the $350 a night resort.  The ones with the state of the art fitness center, the luxurious spa, and the fancy swim up bars.  But we found a way around it since $350 is too steep for us.  We politely ask the manager if we eat lunch at their restaurant will they let us use the pool.  90% of the time they will say yes, especially if it slow and they want to fill some seats in the dining room.
I have floated in spectacular infinity pools, soaked in the most relaxing hot tubs, and enjoyed the greatest views.  All for the price of a turkey sandwich.