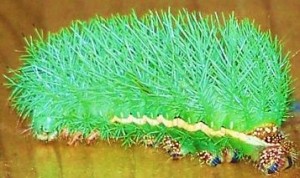 Costa Rica Cost of Living Update:  12 foot Christmas tree- $14
Costa Rica has some of the most diverse plants and animals on the planet.   This little guy caught my eye as he wondered onto my terrace.  At first glance I thought it was just pine needles blowing in the wind. But as his movement was slow and steady, he made me take a closer look.
His camouflage reminds me of a Christmas tree, or maybe I'm just in the holiday spirit. Either way I wouldn't mind putting some decorations on him. Only one or two blinking lights and some garland… just enough to remind me of home.