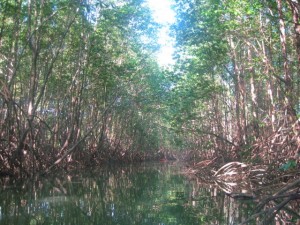 Costa Rica Cost Of Living Update:            Four Hour Kayak Tour-$35/person
Nature doesn't want me here. 
A family of white face monkeys hang off the elevated roots and bear their teeth.  The White Ibis birds dart over my head, chasing me away as one would an uninvited guest.
 I silently glide across the water when I notice two suspicious eyes on the surface.  It continues to stare before slowly sinking back into the murkiness. Could it be a crocodile, one that may have been watching me this whole time? All the more reason to be nervous when my husband almost flips the kayak.
Mangroves make you feel alone and vulnerable;  their inhabitants are the ones  deciding your fate.
I leave without looking back and remind my husband to stop rocking the boat.