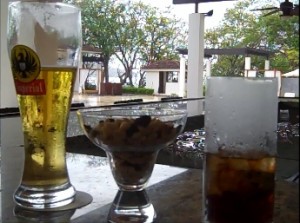 Costa Rica Cost Of Living Update:             Two drinks at Reserva Conchal Private Resort-$8
We are all good at some things. Lucky for me, my husband is good at getting us into any private luxury complex to snoop around. And snooping can mean swimming in their pool, enjoying their beach club, or checking out the rooms.
Our mission is to bring you any interesting tidbits on these escapades. What was the most impressive to what felt like a ripoff. 
It's a job I am more than qualified to do, since floating in an resort pool while drinking a margarita is the perfect amount of energy I like to burn on a hot day.
Of course, it's all for a good cause…right?