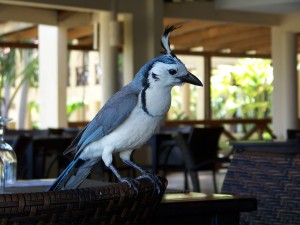 Costa Rica Cost Of Living Update: Packet of 8 Hot Dogs-$2.70
I love to share pictures of the amazing wildlife in Costa Rica.  At times, living here feels like a scene in a Disney movie: cute birds flying overhead, their tweets soaking the morning air with a renewing freshness. 
But this bird —this beautiful bird— is a real S.O.B.  His personality is aggressive, surly, and brazen. I want to smack that feather right off his head. And I would if I didn't fear losing an eyeball.
He swoops down every morning and attacks my dog. He also shows up at restaurants, stealing food right off my fork and tearing sugar packets open with the ferocity of the Hulk. He's not only a jerk but a show off as well.
He's a White-throated Magpie-jay. (Coincidently, Heckle and Jeckle were magpies.) He's on my watch-list. I always thought my first rumble in the jungle would be with a jaguar or venomous snake. Not with a bird that looks like he's wearing a French military hat.