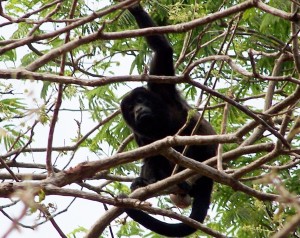 Costa Rica Cost Of Living Update: 30 individually wrapped slices of American Cheese-$6.40
I lost internet for 2 days which had me feeling like Lindsay Lohan on house arrest. It was that bad.
I often see people sitting at the beach with their computers and joke that they are staring at a virtual screen saver of a palm tree while actually sitting under one. They can't—even while on vacation—let go of that internet addiction. But after losing my signal, I empathize with these people.  We have all become a generation of technological junkies.  I bet we could be happier if we let up every once in a while and enjoyed all the great things going on around us.
I'm going to take that first step. I'm shutting down the computer today to watch a few monkeys that are currently playing on the telephone wire outside my house.
Hmm…I think I just found out who knocked out my internet. This is not the face of an innocent monkey.