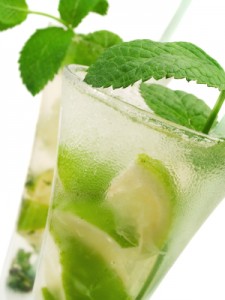 Costa Rica Cost Of Living Update: Daypass to Hacienda Pinilla's fancy shmancy beach club- $20
Yesterday we decided to get out of the house to celebrate the book launch and my new occult following. I wanted to live it up and go somewhere super snazzy. A place with jasmine scented soap in the ladies room and cool travertine under my feet.  A place with the best chance of making an idiot out of myself.
The Beach Club at Hacienda Pinilla fit the bill. Situated right on the sand, you can swim in their infinity pool while watching the surfers ride the waves. Another incentive was that the $20 fee was credited  towards your food and drink. And since I was celebrating, I ordered a Mojito—Ernest Hemingway's favorite beverage.
I have since learned that I can't drink in the heat.  I know this because I started reenacting Spanish infomercials in the pool with mint leaves stuck to my front teeth. It wasn't my proudest moment. Especially after all the adults and children ran out faster than a scene from Jaws.
Next time I will stick to iced tea. 
A man's got to take a lot of punishment to write a really funny book~Ernest Hemingway