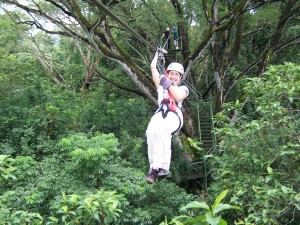 Costa Rica Cost Of Living Update: Cartagena Canopy Tour- $35/person (negotiated for a party of three)
My phone and internet line are still down. So I'm finding lots of things to do…fun things.
I've been zip-lining a few times in Costa Rica, and each ride feels thrilling. I believe these adventures help me stay out of a rut, and flying through the air attached to a cable is a great way to get out of your comfort zone. And don't we all need those moments when we challenge ourselves and do something adventurous?
So it turns out being off-line is the best excuse to get on-line and zip through the jungle. Just make sure you don't look down.