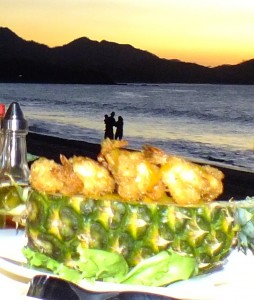 Costa Rica Cost Of Living Update: Cost to fix timing belt on car (got rid of the girly noise) and repair horn (which now sounds like a girly moped beep) -$400
Our friends are here from Pennsylvania and they want to treat us to dinner. We take them to a place we normally go—in the LOW season. Rob orders the specials, waving his hands in the air like he's conducting a symphony. "We'll have two orders of the coconut shrimp appetizers." He convinces our friend to forgo the reasonably priced chicken and rice dish to splurge on the fresh lobster.
Everything is great until the waiter brings over the check. Those delicious shrimp appetizers cost $20 each. And the lobster dinner…it was $40.
So when ordering the specials, make sure you ask the price first. But even with that surprise, it was a memorable evening as we watched the sun set while two people made-out in the ocean in front of us.
They didn't spend a dime and, apparently, had just as good a time.