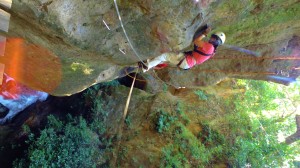 Cost Rica Cost Of Living Update: Adventure Tour at Rincon de la Vieja Park—$85/person
Last week I decided to go with a couple friends to explore Rincon de la Vieja National Park. It's been on my bucket list since moving to Guanacaste, a place with unspoiled beauty and an abundance of wildlife. The drive alone was exciting with bumpy dirt roads one would expect to see in Costa Rica. I've said it before and it rings true each time I explore; the best places in Costa Rica are at the end of a dirt road. And sometimes that road will jostle every joint and tendon in your body. It was true for this one, so I knew there was something fabulous at the end.
It's an incredible thing to be one moment in 90 °F weather and an hour and a half later enjoy temperatures in the lower 70's. Not long into the ride, I looked up and saw the ominous Rincon de la Vieja in the distance, with the dormant sister cone, Santa Maria, rising adjacent to it. Rincon de la Vieja means 'Old Woman's Nook' and there is a legend that a father threw his young daughter's lover into the volcano (and to think, my dad just hung up the phone on these guys). It must have been a hard time for a gal to get a date back then. But on the flip side, the legend says she gained healing powers, so it apparently worked out in the end.
Rincon is known for its mud pools, thermal springs, fumaroles, and spectacular waterfalls. It's also popular for bird enthusiasts. One might get the chance to see an emerald toucanet, blue-throated goldentail, spectacled owl,  black-faced solitaire, or a laughing falcon.
We decided not to hike to the crater but instead stopped by Adventure Tours and chose a package of four excursions and lunch for $85/each.  Our first hike was a nature walk, and after a few steps into the forest, the quiet rustling of the trees made my home near the beach feel like a bustling city. Forests always have a way of making me feel insignificant; giving me the balance I often lose when I get overly consumed with my daily problems.
Our friendly guide, Caesar, eagerly shared the description of the plants and his love for his country. We walked through a butterfly garden and a snake gallery, where he was excited to tell us how many snakes in Costa Rica can kill you within an hour (there were a lot). He then reached into a cage and draped a boa constrictor around my shoulders. I wore it as fashionably as one could, and was surprised how cool and soft his skin was.
Our second excursion was a horseback ride to the La Chorrera waterfalls, where you can take a dip in the gem-like blue waters. The lagoon is safe to swim, and one rarely sees a watering hole as beautiful as this.  But my favorite part of the trip was the zip-line adventure. They advertise this as the best in the country, and I was skeptical since I've done a dozen of these. However, they did not falsely advertise. This was not just zipping through the forest on a cable but more like scaling a canyon wall with options to rappel down and climb out.
I volunteered to be the first to go, and was hoisted down four stories onto a platform hovering above a turbulent river. I was then swung, Tarzan style, across to a ledge where I climbed a vertical wall to the top. For a moment I looked down and watched the water echo throughout the canyon below me. I couldn't believe I was doing it, and so proud that I didn't succumb to my nerves which I have a history of doing. But I didn't move to Costa Rica to sit on the sidelines; I came to participate in everything this country has to offer.
We ended the day in the mud baths and thermal springs. It was the perfect way to warm those overtired muscles and relax under a canopy of trees.
Living in Costa Rica is a blast. But doing Costa Rica is exhilarating. This is a fun country with endlessly fun things to do. You may not choose to rappel down a canyon, but just enjoying the trails and wildlife is a pleasant way to spend the day. Maybe the legend is true and there are healing powers in the park. I know I felt pretty good when I left.