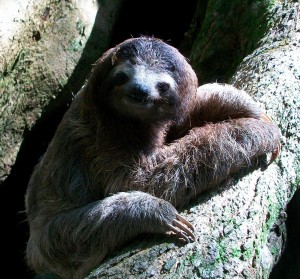 Costa Rica Cost Of Living Update: Happy Hour on the Beach- $2/drink
There is only four days left for Costa Rica Tourism Board's contest Costa Rica's Million Dollar Gift of Happiness . Upon viewing the video, I could not help but notice the similarities between the name of this ad and that of my book, Happier Than A Billionaire. I was excited to think that my story could have had some influence. However, it is obvious that the connection between Costa Rica and happiness has existed long before my book ever did.
There is no mystery as to why Costa Rica is a happy place. The talking sloth's laid back style nails the Pura Vida lifestyle and friendliness of the people. Mr. Sloth points out the fact that Costa Rica is bordered by two oceans and is one of the most bio-diverse places left on the planet. It's an environment where you have the opportunity to escape your hectic lifestyle and witness some of the world's most wonderful creatures.
The way in which we have come to stay connected at all times is fascinating: Facebook, Twitter, email, instant message, and texting. We can stay in touch with each other by easily turning on a modem or switching on a cell phone. But we have also learned that this comes at a price; we lose touch with the world in front of us. What was once a guest bedroom is now a home office and emails that used to be sorted at work are now being answered at home after dinner. It's no wonder so many are looking for a little more pleasure in their lives. Costa Rica is uniquely suited as the perfect get-a-way for those needing to unwind.
You will feel the excitement seep in as early as the shuttle ride from the airport to your hotel. The varying shades of green rolling down the mountains are a sharp contrast to the passing shades of grey from the strip malls back home. Costa Rica reminds you that there is an inherent need to be around nature, to participate and delight in the beauty of unspoiled rainforests.
The size of this country can be deceiving. There are so many miraculous things to see in an area the size of New Hampshire and Vermont combined. One can enjoy watching the wild Scarlet Macaws dart from one almond tree to another in the Osa Peninsula or enjoy snorkeling in turquoise waters off the Caribbean. One might choose to observe a family of squirrel monkeys at Manuel Antonio or surf the waters off Jaco. These activities do not require an iPhone or internet connection, only the requirement to enjoy the present moment.
Whether it's darting through the canopy on a zip-line adventure or observing leatherback turtles lay eggs on the beach, these activities help us detach from our hectic lives. It also reaffirms that happiness does not always mean another flat screen television or buying a new car. It's about sharing a wonderful experience with a species that has been on the earth for thousands of years.
When I wrote my book, I wanted to share the experience of leaving my stressful life behind and trading it for a happier one in Costa Rica. However, one doesn't have to live here for long before agreeing with Mr. Sloth. The people are friendly, there are incredible places to explore, and it's just a happy place to spend time. And who better to convey this message than a charming, talking sloth.
Don't miss your chance to enter this contest and win a free trip to this incredible country I now call my home.
(for a chance to win, go to their facebook page: https://www.facebook.com/visitcostarica )