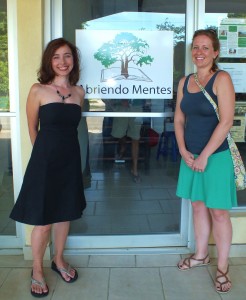 Costa Rica Cost of Living Update: A Quart of Motor Oil— $15.18
As I look over the children's' assignments that are taped to the wall, one stands out. A ship drawn on the ocean with a bright orange sun shining in the corner. "I want to get a job in tourism," it reads, signed by a boy named Justin. At such a young age, Justin already knows there are more opportunities available to him if he can learn computer skills and conversational English. He will raise himself out of poverty by going to his weekly classes at Opening Minds (Abriendo Mentes). Justin's future will look different than his parents.
 Drew Ragland had an idea three years ago. He noticed that many people in Potrero, Costa Rica were not getting the better paying jobs at nearby hotels and resorts. Since the local work force here was lacking in computer and English skills, hotels were hiring people from outside the area to fill the positions. Knowing that he had the ability to teach English, Drew set up a simple whiteboard in a small open air restaurant. He started writing English words on the board and people came to learn. Soon, he was teaching not only the adults but the children as well.
"There was a need," Drew tells me. "I saw that need and knew I had a way of filling it." And so, Opening Minds—a non-profit charity—was born.
His co-founder, Meradith Leebrick, explains how the program grew. It did not take long for the community to rally behind the charity providing ideas and information that helped Drew and Meradith understand the needs of this growing area. Today Opening Minds now has four main programs: Youth Education, Adult Education, Women Empowerment, and Technology.
Meradith and I walk to where classes are held in an old police post. She's incredibly optimistic and has a way of making these complicated issues sound very simple. She doesn't discuss statistics or plans to build an oversized building with all the latest technological gadgets. She just keeps going back to the phrase "when we see a need we fill it."
People have done less with more in the United States. A consulting firm would be hired, and eight hundred thousand dollars later, their thoroughly researched conclusion would be, Yes…this area is poor. People would shake hands, checks would be cashed, and the community would scratch their heads still confused about what to do next.
When we walk into the small classroom, the center table is surrounded by children being tutored one on one by volunteers.  Meradith introduces me to Lindsey Losasso, the project coordinator. She and her husband, Vinny, moved to Costa Rica to work with the charity. Lindsey explains to me how the curriculum enforces language skills and has written lesson plans for the volunteers to follow.
At the end of the class, the children line up to receive a star sticker but first they have to answer a question in English. I am struck at how excited they are to show off what they learned that day. They are all smiles when they receive their star and proudly stick it to their attendance sheet.
I ask Meradith what type of items she could use, and perhaps people can put them in their suitcase when they come here on vacation. She asks for white board markers, an expensive and difficult item to find here. She also smiles wide and says, "We always need more paper. That too is very expensive in Costa Rica." She begins to talk about paper with the enthusiasm of someone who just won a car on the Price Is Right. Paper to her is another lesson, another English word written ten times, another diorama describing the rooms of a house in English. Each sheet to Meradith represents a better future for her students.
As we walk back to Opening Minds' office, everyone stops to talk to Meradith. Little children run up to her, telling her in perfect English they are going to their class. One little girl in a blue dress opens up her notebook to show Meradith that she wrote her English words ten times. As we continue walking, I notice that cars pause to wave at Meradith and she even reaches down to pet the stray dogs that run past. She is changing this community not only with her classes but the kindness and generosity she shows to the people (and animals) around her.
I write about living in Costa Rica and finding that a simpler life is a happier one. What Opening Minds is doing in such a short time is a remarkable testament to what can happen when someone decides to fill a need. We can often complicate issues and in the end, shrug our shoulders and do nothing. A few years ago, Drew decided to put up a few English words on a whiteboard and now a little boy dreams of a job in tourism. With the assistance of Opening Minds, I'm all but certain he'll have the skills to make his dream come true.
Do you have some paper or whiteboard markers you would like to donate? Check out their website, http://abriendomentes.org/, and find out how you can fill a need in this community.