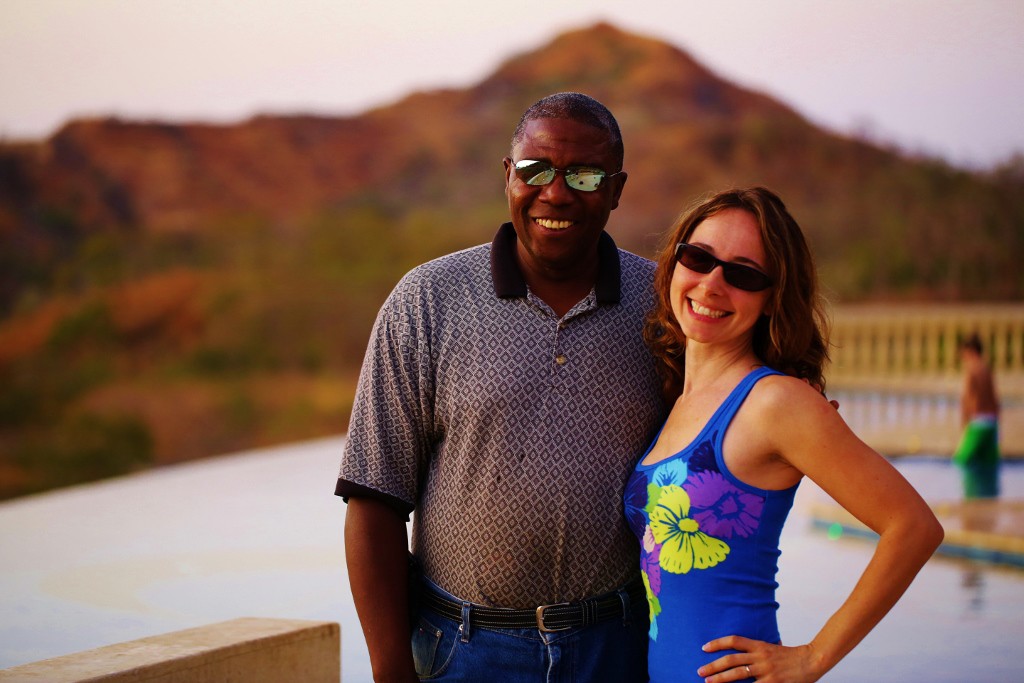 Costa Rica Cost Of Living Update: Bacon cheeseburger, french fries, ocean view, with a side dip in an infinity pool—$8
Last night our internet was down.  Rob and I got restless so it was the perfect time to grab our camera and check out a new restaurant that recently opened nearby. I like supporting new businesses because I know firsthand just how difficult running one can be. I remember when my book went on sale and I wondered if anyone would ever purchase it. I'm so grateful readers found me that I want to spread acts of kindness and help someone else out as often as I can.
The Club at Mar Vista is perched high on a hill with panoramic views of the ocean. Rob was anxious to catch the sunset so he raced up the hill so fast I'm pretty sure something important fell off our car. Lately, a lot of things are falling off our car. One day I'm going to fall off this car.
To our surprise, the owner of the restaurant turned out to be our friend, Bryan Campbell. He also happens to be the owner of the popular Café Mocha. I go there often, not just because of the coffee but because he makes the best brownies in Costa Rica. I knew he was starting another business, but he wanted to keep it under wraps until he was ready to open.  I can see why. This is not your ordinary place. This restaurant has an infinity pool that spans the entire establishment with an underwater lighting system that makes it irresistible to jump right in.
My eyes lit up as bright as this beautiful pool. It was like seeing an oasis in the desert, and I'm pretty sure I spotted Peter O'Toole in a kufiya sipping a margarita at the swim-up bar. Or it could have been a mirage caused by the concussion I suffered from Rob hitting every bump to get us there. Either way, I was speechless.
I love the concept of a restaurant with a swim-up bar. In fact, if I ever return to the states I'm going to suggest this to Chili's corporate office. "Yes, your Hot Spinach and Artichoke Dip appetizer is delicious, but would you consider removing tables 35-87 to make room for a pool? It would be delightful. Take a bite out of that Applebee's."
Bryan informs me that the grand opening is this Saturday and the band Local Legend will be playing. Coincidentally, the guitarist is also our friend named Brian. If you are in the Tamarindo/Flamingo area, I hope you all come. Two Brians are always better than one. And if you drink enough, you'll probably see four.
I wish all the best to Bryan Campbell. He's a good guy and was so supportive of us when we wrote the first book. He enjoyed the story in The Sequel about my husband getting hernia surgery in Costa Rica, especially when the young nurses giggled after lifting Rob's gown to inspect his scar at 3 AM.
"It's like bad hospital porn," my husband said while recovering on the gurney. I wanted to ask if there is ever good hospital porn, but the conversion was unseemly and I preferred to focus on what I do best, which was sobbing all over his chest and being completely useless.
I've met a lot of people on this adventure. Some urinated in my shrubs, others promised to fix an internet line next "manana."  And then you meet the Bryans of the world, a nice guy trying to carve out a living for himself and his family.  And his living just happens to have a swim-up bar and an ocean view that I'm certain will enhance my experience here for years to come.
I have a feeling I'll be back at The Club at Mar Vista. Look for me at the swim-up bar wearing a kufiya and drinking a mojito. Or just follow the Hansel and Gretel trail of car parts and you'll eventually find me.