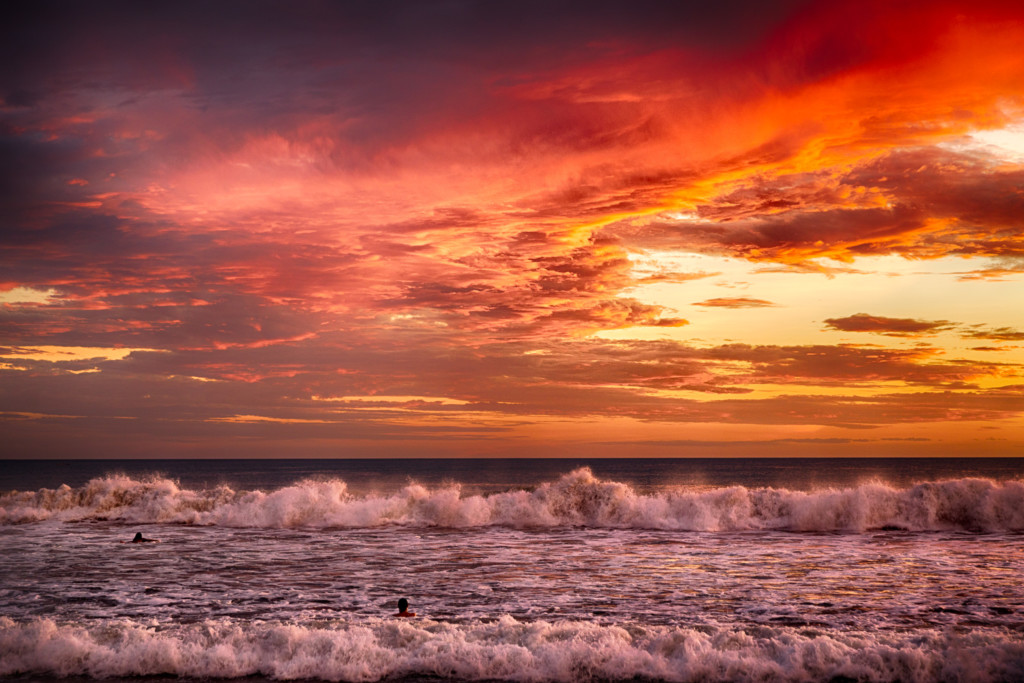 Costa Rica Cost of Living Update: One imported Florida orange — $1, One bag of Costa Rican oranges —$1
Although we love our road trips and would take them just for the fun of it, they also serve a purpose. We started our trip when our friends (the owners of the house we rent), returned to Costa Rica for their yearly family vacation. They always welcome us to stay in the downstairs level of the home, but there is no stove and only a small refrigerator. Eventually, our diet ends up consisting entirely of potato chips and Ho-Hos.
It's one of the reasons we only pay $150 a month rent. We have to be flexible when they arrive, and take on the role of caretaker throughout the year. Some of our duties include security, home repairs, and emergencies that may arise. I will also note that we're responsible for wasp removal, well… Rob is actually in charge of that. It's not that I refuse to do it, more like I'm a draft dodger sneaking into Canada. This leaves Rob playing the all time classic… wasp nest piñata game. It's the reason I do the dishes: there is less chance of succumbing to anaphylactic shock when at the kitchen sink.
Since our house is now more secure than the US Mint, when the owners are here we all end up setting off the alarm. It's impossible to move in or outside the house without tripping one or more motion sensors. One night our landlord had to sneak downstairs while we were sleeping to grab the phone. He army crawled across the floor just in case Rob woke up and thought there was a burglar sneaking around.
"Man was I scared. I thought I was about to get maced in the face," he said the next morning. It's nice to know that we add a certain level of paranoia to their Costa Rican holiday.
While talking with our friend Sky Maricle, Rob mentions our Ho-Hos diet dilemma. Sky is an awesome property manager and is responsible for a number of properties in the area. He proceeds to tell us about a house that happens to be available in Playa Grande for just a few days before the next renters arrive. Sky invites us to stay and we are ecstatic. We love this idea because our landlords surf daily at Playa Grande and it's a great house for them to visit, have lunch, and take a nice break from the sun. Sky gives us directions to a home named Casa Muy Grande.
Once in Playa Grande, we turn down the road that takes us to the Palm Estates community. It's a small enclave with houses, restaurants, and even its own tiny, grocery store. Like everywhere else in Costa Rica, there are no street signs or numbers on the houses.
"Is that it?" I ask, pointing to a sign that reads Casa Muy Grande.
"It can't be," Rob says. "I mean, we can't possibly be lucky enough to stay here."
It's then a caretaker comes out and unlocks the gate. "Are you Robert?" he asks before inviting us in. Now we understand why the house is called Casa Muy Grande. It's not a hyperbole: it's actually very muy grande.
We are greeted by a beautiful circular driveway with a large fountain flowing in the middle. I love circular driveways; in fact, we go around a couple times just for fun. Once inside the house we discover five bedrooms, six bathrooms, and two acres of perfectly manicured gardens.
The pool has a little archway over the top directing you to the backyard that also doubles as the beach. Crabs pop their heads in and out of tiny holes in the ground. I can hear the surf rolling in, and feel the earth thundering under my feet.
The grounds are alive with beautiful shrubs and flowers. I walk a little farther and find a tennis court, Ping-Pong table, and outdoor kitchen. An adjacent building contains surfboards, kayaks, snorkel gear, and boogie boards that are free for guests to use. I've never been to a house that provides all of this, and can't help but think how great it is for a large family visiting Costa Rica. You don't even have to bother renting anything: it's all right here.
On the other side of the backyard is a Tiki hut with a massage table inside. I lie down, relax, and listen to the waves smashing into shore. I can't imagine a better place to unwind so I remain here for twenty minutes. Between driving in circles in the front driveway and getting my imaginary massage in the backyard, I'm making a great first impression with the caretakers.
The caretakers end up being a sweet husband and wife team that live on the property. And from what I've seen so far, they do a lovely job managing the grounds. Everything is in pristine condition, and there is not one leaf or palm frond in the pool. They are here twenty-four hours a day and can assist you with anything you may need. The wife even offers to cook for us, but after seeing them work so hard, we decide to cook for them instead. I'm lucky that I get to interact with Costa Ricans; their positive attitude always enhances my experience and makes me feel at home no matter where I am staying.
While I continue to lounge on the massage table, Rob decides to explore the upstairs master suite. It's surrounded on three sides by windows with a door that leads to an outdoor, covered balcony.
"Look up at that tree," Rob calls down. "There are hundreds of butterflies."
Hundreds of butterflies, even some variations I've never seen before, have congregated around a tree with red, blooming flowers. This house is incredibly private, nestled into its environment. If I lived here, I'd probably turn into Howard Hughes and never leave.
Rob and I spend the next three glorious days at Casa Muy Grande, enjoying the pool, tennis court, and what we decide to name the butterfly tree. We wake up to howler monkeys grunting their way through the canopy, and birds welcoming the day with their sweet songs every morning. This home is big, but not just in size. It's big in keeping the natural habitat alive, a place where you can enjoy the crabs and monkeys that call it home. And isn't that why most people come to Costa Rica? A little bit of luxury sprinkled with butterfly trees and howler monkeys. It's the right mix for a perfect holiday.
Take a peek inside Casa Muy Grande! www.casamuygrande.com
Sky Maricle Property Manager: www.coastalrealtycostarica.com
Email: sky@costapm.com  Office: (506) 2653-4607   Cell: (506) 8888-0059