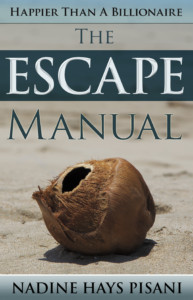 Costa Rica Cost of Living Update: Guidebook including everything you need to know about moving to and living in Costa Rica—  Paperback $12.99  or Kindle $2.99
After two years of interviews and countless road trips, Happier Than A Billionaire: The Escape Manual is finally available. It's the "how to" on moving to Costa Rica, with lots of armchair travel thrown in for good measure.
I knew a lot about living in Costa Rica, but even I was surprised—after interviewing many experts—just how much I still didn't know before writing The Escape Manual.
I'm excited to share what I've learned, so let me take you on a journey through getting residency, buying a car, avoiding crime, meeting a trustworthy attorney, and much, much more.
As you may know, when navigating a foreign country there are bound to be some laughs along the way.
Kindle App so you can read on iPad