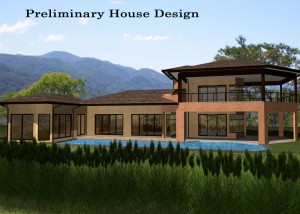 Costa Rica Costa of Living Update: Building a home in Guanacaste— Approx. $125 / SqFt
Rob and I are taking the plunge and building a house. If it were up to my husband, he would build it himself out of underwear and bobby pins. Luckily for me, Costa Rica has strict building codes and—from what I can discern—doesn't allow duct tape in any of its structures. But before we do anything, we ask around to find a great architect, one that will design our dream home and see it to fruition.
Sandy, my girlfriend who was featured on House Hunters International and in my books, is extremely happy with her architect who just like us, was cut from the final editing of her HGTV episode. It could be because my husband kept yelling "This house makes me happier than a billionaire," every time the camera was on him. No matter what the producer said, Rob somehow found an excuse to interject the title of my book, "My wife, author of the wildly popular series Happier Than A Billionaire, loves Sandy's choice of lighting fixtures." This PR move left us wildly unpopular with the producer, thus our footage ending up on the cutting room floor.
"You are going to love José," Sandy says. "He listens to your ideas, and does his best to keep you within budget. He did an excellent job with my home."
José Pablo Acuña Lett is a soft-spoken Costa Rican architect that always has a smile on his face. He graduated from Instituto Tecnológico de Estudios Superiores de Monterrey, Mexico which I later found out is an incredible university. He also received his MBA in International Business, and has worked on dozens of projects throughout Costa Rica. But what is most important to me right now is that he is bilingual; a great asset since our Spanish is still coming along and building our house is not the best time or place to be practicing experimental Spanglish phrases.
My husband calls José and I'm happy to let Rob do all of the talking. At this point in the game, I don't care what kind of house we build. We have such a long journey ahead of us, I'd rather just eat my grilled cheese sandwich and call it a day. Plus, we all know Rob is full of ridiculous ideas. It's more fun to just kick back and listen while he explains what type of home he wants to design.
"I'm thinking about a bell tower, something where I can look down at the entire property," I overhear Rob tell José. I pop open an Orange Fanta because this is going to be better than our trip to the gun store.
"I can see your point José: budget issues… Good call. What? Yes, yes. Cross-ventilation is very important for a house in Guanacaste. It does get hot here. What do you think about a two-for-one ventilation system? One that provides a cool breeze, combined with another system that can spread knockout gas throughout the main floor in the event there are any intruders. Hello? José, are you still there?"
I am enjoying this conversation so much, I lower the TV and get some more ice for my soda. I feel for José. I'm sure he has dealt with some weird gringos, but this has to be one of the oddest conversations he has ever come across.
"You might be right José. It could mistakenly gas my wife and I. No, that's not part of my security plan: I would like to remain conscious in my house. What? Let's come up with the dimensions of the rooms? Okay, I think that's a probably a good place to start. How about one big room, wide open, without any beams to obstruct the ocean views. No, not one beam, just a huge vista."
I agree with Rob: I love the idea of wide-open spaces. Drop me on a mountaintop with unobstructed views and I am a happy camper. But considering that we live in an earthquake zone, it would be nice to keep my home as structurally sound as possible. However, I do applaud Rob's design, and if we do go with that plan, it'll be exciting filling the house with the few things it could support: feathers, sunlight, and molecules.
"Could be illegal? Yes José, I understand we get earthquakes and there are building standards. I think we need to get together so I can show you my sketches and ideas. I would also like some booby traps across the property, so keep that in mind."
They both are meeting later today to discuss Rob's plan: a bell tower, gas ventilation system, and complete lack of any supports. All of this is ridiculous since we are building in a wonderful community with great security and amenities. I guess you can take a guy out of Brooklyn, but you can never take Brooklyn out of a guy.
So this is how my dream house is starting. Being married to Rob, I couldn't have imagined it would go any other way.
(If you are considering building a home in Costa Rica, I would strongly recommend you give José a call. Phone: 506-2271-1965   Mobil: 506-8830-4827 )