Costa Rica Cost of Living Update: Fried Chicken casado by the sea— $5
We are getting near the end of the dry season, but at the moment things are nearly as dry as they can get. For locals this means two things: It will be very hot— and things will be very dirty—until the true rainy season is upon us. It's this time of the year when unpaved roads become elongated dust trails. If you ride a scooter or take your bike to work, you'll be inhaling a healthy dose of grit by the end of your ride. Driving in a car or SUV will not protect your nasal passages from the formation of clumpy dust bunnies either.
"Is dirt coming out of the air-conditioning vent?" I ask Rob while we're heading out for lunch.
"No, I think it's coming from the dashboard. Or maybe from the doors. Is there a hole in the floor?"
It's not the strangest question. There could be a hole in the floor since there are tons of problems with our car. I think something is leaking and our transmission keeps slipping. I actually don't mind the latter since it makes our engine sound like a Tyco Aurora slot car every time Rob steps on the accelerator.
My husband has always driven junkers, so this predicament doesn't dampen his spirits. He's always under the hood tinkering around, sticking bars of soap in between the belts and lodging underwear into some crevice in order to stabilize a loose do-dad. He's the Dr. Frankenstein of car repairs.
"Get me oatmeal, a banana peel, and non-salted butter," he might yell from the driveway. This could explain why my car always smells like banana bread.
By the time we make it to the soda (a small mom-and-pop Costa Rican restaurant), the dirt has adhered to my sunscreen forming a pasty glue. This creates a crafty crackling effect that would look lovely on a vase, a wooden table, or anything that is not my face. But who cares about appearances when you are living in one of the happiest countries on earth. And today we are treating ourselves to lunch at the beach.
Soda Brasilito is a small establishment located just a block from the surf. I'm a sucker for eating near the water. It seems good for digestion, the salt air is delightful, and this feels like where I'm supposed to be.
The restaurant's furnishings are simple: wooden tables covered in navy blue tablecloths with Chinese lanterns dangling overhead. When you are this close to the ocean, you don't have to get carried away with lots of details. Nature has already provided the best décor.
A waitress brings out a menu with a variety of entrees. From scrambled eggs to fried chicken, ceviche to pork chops, they have something for everyone. The chef will even cook the fish you may catch! If you've ever seen me attempt to gut a fish, you'd know why I find this an indispensable service.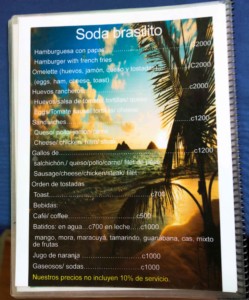 Sodas are much less expensive than other restaurants, and Soda Brasilito is no exception. The coffee is only one dollar and a hamburger with French fries is four dollars. How can you beat that?
I order a fish casado (typical Costa Rica recipe of beans, rice, plantain, salad, and a choice of meat, fish, or poultry) while Rob orders the fried chicken version of the same dish. There is not much to do but relax while we drink our ice-cold drinks. There is never a rush to eat and leave. In fact, you will have a hard time ever getting a check in Costa Rica. I remember as a waitress in college, we were instructed to turn over tables as quickly as possible. Here it seems that kind of business management is as foreign as a Tico trying to rush himself through a delicious lunch.
"Push the Love Potion #9 special, then get them the heck out of here," my manager would say. (I worked in a 1950s inspired restaurant. And no, I didn't have to wear roller skates.) In Costa Rica, you can practically pitch a tent and stay overnight. And in the morning you still won't have anyone bringing you the check!
While writing Happier Than A Billionaire: The Costa Rica Escape Manual, I strived to give a realistic representation of what life might be like in many different places around the country. Tourist areas are usually quite expensive, but even here one can find ways to cut costs. It could take as much as six months to find vendors with cheaper produce, the friendly butcher that'll give you a break if you buy in bulk, and the simple sodas that serve fried chicken next to the sea.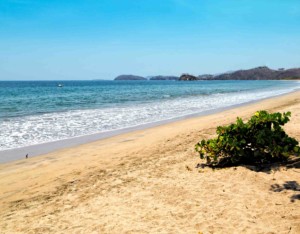 After our meal—and with full bellies—we walk hand and hand to the beach. The color of the water resembles a turquoise Easter egg. We dip our feet into the lazy waves, letting the cool water splash up our legs before heading home. We're beginning to feel lazy as well, and decide an afternoon siesta might be in order.
Rob and I jump back into our dirty car for another dirty ride home. The dust doesn't seem to bother us now; Costa Rica has a way of smoothing out all of its little inconveniences. It's hard to be in a bad mood when you just had lunch by a beautiful beach. Or maybe it's just that whatever Rob did to fix our car made it smell like delicious oatmeal cookies.
This is my life as an expat. Some days may be better than others, but they are all exciting in their own way. It's a life I was searching for, and luckily I get to share it with my husband and all of you.
This is exactly where I'm supposed to be…