Costa Rica Cost of Living Update: One huge papaya—$1.20
It's been seven years, but we never gave up! I'm happy to announce that Rob and I just broke ground on our new home in the Mar Vista Community just outside Flamingo! But it gets even better: we decided to build a bed and breakfast so that others can enjoy Costa Rica as much as we do.
For sure there will be a pool, and Rob is already designing a garden with organic fruit trees. I would love to have an outdoor space for dining and barbecuing, and a patio off the second floor. My head spins with ideas, but I know how easy it is to get carried away with one's budget. Rob and I have to be practical, but there has been nothing practical about our adventure from the start. Maybe for us, being "unpractical" works out the best.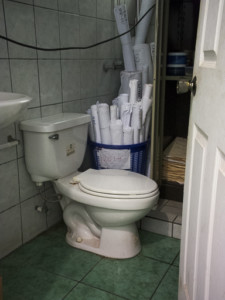 We just began the process so we are unsure of the opening date, but you can bet we will fill you in along the way. One hurdle was getting the permits approved. After meeting with the inspector at the municipality, our blueprints were swiftly stamped then dumped in the office's bathroom. One might consider that a bad sign, however, it must have been good luck for us since everything went through without a hitch.
We are on a strict budget and I'm sure plenty of obstacles will present themselves along the way.  Rob even informed me that we may have to finish part of it ourselves. All I can say is that I'm ecstatic. Honestly, this Costa Rican adventure of ours just keeps getting better and better.
Dreams do come true, sometimes they just happen in a different order than planned.
(Sunset view from our future home)