Costa Rica Cost of Living Update: Tylenol (24 tablets)—$3.00
You may be wondering if I'm still sitting on my floor. The answer to that is no. Not on the floor, but on an irregular king-size bed my husband insisted we buy.
"There's probably just a scratch or two," he said, after the store demanded we leave while they wrapped it up. This suspicious behavior pretty much ensured that I would have a very deliberate argument with Rob, one with the phrase I told you so, by the end of the day.
There has not been an irregular item my husband has passed up in fifteen years. Whether it's oddly stitched shirts or pants with crooked pockets, he gravitates to anything that can possibly save him money. Garden hose with a few cracks? Nothing duct tape won't fix. Expired vitamins? They'll just make the body stronger.
So we bring back this deal of the century, put it together, only to realize all the wooden slats are missing.
"No problem. We have wood around back, I'll just saw a few myself," he said.
An hour later he places the slats in the frame, drops in the mattress, only to realize that the "irregular" part of this story has nothing to do with the wooden slats, but with the fact that the frame was built an inch too narrow. The mattress did not fit, and that's when the I-told-you–so parade started. I believe I tossed in some unrelated grievances from ten years ago, just to keep the flow going.
"It's not a problem, I just have to bend the mattress in half and jump on top," Rob reassured. And bending the mattress in half and jumping on top, not surprisingly, resulted in breaking most of the wooden slats he had just cut.
Two hours later, he somehow crammed the mattress into the bed frame, making changing the sheets an Olympic event. This is a success story according to Rob.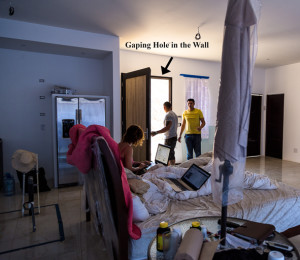 So here I am presently, sitting on our irregular sized bed in our living room, finishing up the 2016 edition of The Costa Rica Escape Manual. I especially like how my husband positioned the bed in front of a gaping hole in the wall. I call this the Dust Bowl excursion, since every time the wind blows I get to eat, and sleep in, a substantial amount of Costa Rican dirt. But as you can see in the picture, the men are here to install our door. I  just keep my head down and pretend that I'm on a beach in Hawaii.
I hope you enjoy the latest edition of my book. New chapters cover the logistics of starting a business, with examples of successful business owners and how they got started. Other topics include information on how to travel for less using buses, staying in hostels, and eating at sodas. Things change quickly in Costa Rica, and there is updated information throughout the new edition.
It's been an amazing journey so far, and I can't wait to share  more stories with you about my life in this beautiful country. It's an irregular one, but one that I wouldn't trade for the world.