Costa Rica Cost of Living Update: New iPhone package with 140 minutes of phone calls, unlimited data, & 700 texts—$20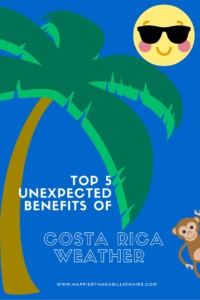 1. Creativity
75 Degree weather. Just writing that makes me feel good. When I lived on a mountaintop in Grecia, I was treated to wonderfully cool temperatures practically every day. Aside from saving money on air conditioning, the biggest benefit was a sense of outdoor/indoor living.  The temperatures were the same and  you had no sense of a barrier. And without that temperature barrier, the world feels bigger, better, and creates a swell of endorphins in your brain. You wake up smiling and go to bed happy. It's the biggest gift Grecia gave me.
These temperatures had an effect on me while I was writing my first book Happier Than A Billionaire: Quitting My Job, Moving to Costa Rica, & Living the Zero Hour Work Week. I would even say they were conducive to the entire writing process. I felt great on that mountaintop, and in a way freer than I have ever been.
We lived so high up on the mountain that clouds actually rolled into our house. Initially, I wasn't quite sure what was happening. I've lived around so much pollution in my life, at first, I thought it was smog. Then this gigantic, puffy cotton ball smacked me square in the face and it was the most heavenly thing I ever experienced. Have you ever been hit by a cloud? I would suggest putting that on your bucket list. However, hanging your clothes out to dry in such high altitudes can be a challenge: This crazy thing happens.
These cooler temperatures come with a substantially longer and more intense rainy season, and the rainy season can bring a substantial amount of mold. It grows on everything and needs to be cleaned… a lot. And then there are weeks in October, the height of the rainy season when there is not one sliver of sunshine for days on end. These were the times I wished I lived at the beach.
Now that I'm living near Playa Flamingo, I'm are fully aware of the difference in temperatures once I step outside. There are times at the end of the dry season I feel like I'm living on the sun. This is reflected in our budget as well. Our allowance for dining out is non-existent, replaced with the additional cost of air conditioning. These are the days I wish I lived in the mountains. Continue reading "Top 5 Unexpected Benefits of Costa Rica Weather" »