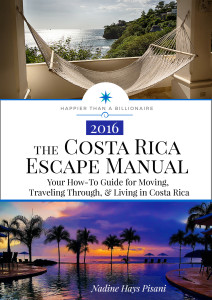 Costa Rica Cost of Living Update: Tylenol (24 tablets)—$3.00
You may be wondering if I am still sitting on my floor. The answer to that is no. Not on the floor, but on an irregular king-size bed my husband insisted we buy.
"There's probably just a scratch or two," he said, after the store demanded we leave while they wrapped it up. This suspicious behavior pretty much ensured that I would have a very deliberate argument with Rob, one with the phrase I told you so, by the end of the day.
There has not been an irregular item my husband has passed up in fifteen years. Whether it's oddly stitched shirts or pants with crooked pockets, my husband gravitates to anything that can possibly save him money. Garden hose with a few cracks? Nothing duct tape won't fix. Expired vitamins? Will just make the body stronger.
So we bring back this deal of the century, put it together, only to realize all the wooden slats are missing. Continue reading "Irregular Beds, Irregular Husband, & the 2016 Escape Manual" »