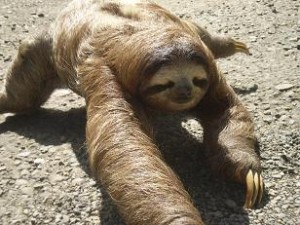 Costa Rica Cost of Living Update:                   Rent for 2 bedroom 2 bath house on 2 acres with a view in a 500 acre reserve including several waterfalls- $450/month
Costa Rica is a country well known for its unique wildlife.  One great place to visit is a sloth sanctuary where abandoned and injured sloths are nursed back to health.  This is a perfect place to visit while driving south along the Caribbean highway. It is run by a husband and wife; two great people making a difference.
Change Pace at the Sloth Sanctuary of C.R. / Travel / Weekend / Costa Rica Newspaper, The Tico Times.