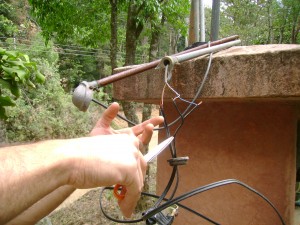 Costa Rica Cost of Living Update: Land line Phone Bill- $28 (includes DSL Internet)
I remember the days talking to my girlfriends on the phone while reading Tiger Beat, contemplating whether Joanie really loved Chachi or confirming that Rick Springfield will surely have a career rivaling the likes of Elvis. 
Now I don't like to talk on the phone because it sounds as if I am calling from a bunker in Iraq.  My husband went out to the road and found this mess.  A birds nest of wires tangled together next to two high voltage cables.  He carefully stepped around the electrical lines, re-spliced the others, and gave me the thumbs up.
I tried calling my mom and was pleasantly surprised.  There was only moderate interference and we had a nice conversation about how my father wants me to get the rest of my crap out of the garage.  I asked her to tell him not to touch my albums, I've been saving that Rick Springfield one for when he makes that long anticipated comeback.
Rick Springfields Official Website- www.rickspringfield.com   (It's just a matter of time guys)