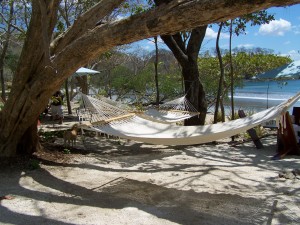 Costa Rica Costa Of Living Update:        Lunch for two on the beach while watching the surf roll in- under $20
I'm about to jump in a hammock but my full belly is making me especially lazy. There is a sleeping dog under a palm tree to my right, I'm sure his belly is full too. He's as relaxed as I am right now.
Lola's second restaurant is located at Playa Danta; their first at Playa Avellanas, south of Tamarindo. Playa Danta is the location of a new development called Las Catalinas, a place where each home has a small footprint so as to protect the natural beauty of the location. It is siesta time so everything is quiet here. Even the breeze whispers.
The owner of the restaurant introduces himself and we share our philosophy of living in Costa Rica.  This was not his first profession, he purposely designed a different life for himself, one that gets him out of an office and into the sunshine.
"If I have an extra dollar at the end of the year I'm a happy man," Donatus says. "You can't have regrets in life, you have to find your passion and do it now.  Don't wait or it'll never happen."
I like what he says.  I also like that he has a cute Dutch accent that reminds me of tulips and windmills.  I wonder what images come to mind when people hear my New Jersey accent. Hopefully, anything but The Soprano's.
The owner goes back to work; it's a busy day. He crosses the sandy beach a dozen times bringing delicious food to his customers. He's working hard, I'm sure this place will only get busier once more people hear about it.
My doggy friend picks up his head, glances over at me, and falls back to sleep. Unlike Donatus, he's in no rush to please people. Costa Rican dogs always know when it's siesta time.
If I didn't take the risk moving here I would never have met this charming restaurant owner, or eaten this tasty meal on the beach, or be swinging in a hammock with a lazy dog at my feet.
I'm glad I quit my job.