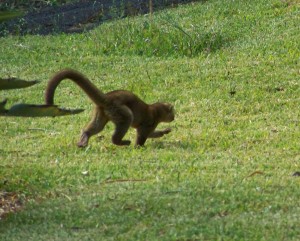 Costa Rica Cost of Living Update:        Prepaid cell phone card for two months of service- $5
He's for real.  I've found Curious George scampering across my property.  He's not actually a monkey, but my favorite of all animals…a kinkajou.
I love his little padded feet and his thick furry tail. I just want to hug him and pet him and squeeze him and call him George. (It's amazing I can remember a line from a Bugs Bunny cartoon 30 years ago but can't seem to recall my anniversary.)
I think you have to try to be unhappy here. Really put all you got into it.  Because whenever I start to feel down, something like this happens, and all the world seems right again.