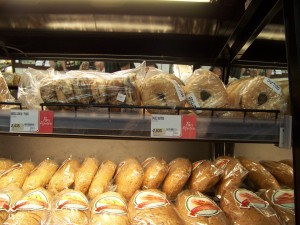 Costa Rica Cost Of Living Update: Half a dozen bagels- $5.25
I've found them…bagels.  No it can't be, I say to myself. But the closer I get, I quickly realize all my Costa Rican dreams have come true.
I grab them and huddle in a corner. Myyy Preciousss, I repeat over and over again as others reach over me for coffee filters. I'm lost in a carbohydrate trance.
Rob takes them out of my hands. "These are hard as a rock, are you sure you want them? You might need a trip to the dentist after eating one. I'm going to put them back. Let's get the five dollar can of whipped cream instead."
We never bought the bagels, but I know where they are. Yesss, my precious is waiting for me, but let me find a good dentist first.