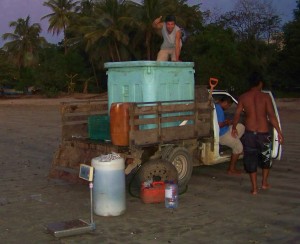 Costa Rica Cost Of Living Update: 1.1 pounds of catch of the day- $3
 You can't get fresher than this—my local fish market is right on the beach. We came across these men after taking a nice sunset stroll.
"What do you have today?" Rob asks.
"Grouper, but come tomorrow morning before 10 and we will have more things available," the fisherman says. "It's always fresh. Just yesterday we had lots of red snapper."
I like the idea of buying off them directly;  there are not many mom and pop operations in the states anymore.  It's one of the things that makes living here so great, supporting the local businesses and keeping the money flowing in the community.
Next time I stop by I'll look for the guy giving me the thumbs up. I know he'll have something great waiting for me in that blue container.