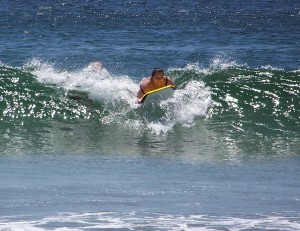 Costa Rica Cost Of Living Update: Yogurt—$1.25
I never knew how popular I was until I moved to Costa Rica. My friends and family were concerned about the move at first. Like most, they wondered if it was safe to live in Central America. But after a few years, they all eventually get the bug to visit. I suppose I sent too many pictures of spectacular wildlife and one too many pictures of me having fun in the surf. Who can blame them?  If I wasn't living here, I would want to visit as well.
When catering to guests, it's always good to know what they like to do. Are they adventurous or do they just like to lounge at the beach? Do they want to hike a volcano or snorkel in the Caribbean Sea? I sound much like a travel agent, planning excursions and orchestrating flights. However, I love to share this country with my friends the way the Ticos have shared it with me.
Although people may read Frommer's Travel Guide and many websites about Costa Rica, nothing can prepare them for what they will see. An unspoiled beach with only crabs and iguanas as your neighbors usually sets the tone; this is not your average coastline. There are things here to be discovered, and the calming environment forces you to take a deep breath. Something many forget to do when they live a hectic lifestyle.
I've taken road trips with friends to Punta Uva on the Caribbean side of the country and snorkeled for hours along their impressive reefs. It's here they drank from a coconut and danced to the Reggae music that streams out of every store or café. They picked up souvenirs from the vendors along the beach, small bracelets and art work that will remind them of this place long after they leave.
Once, I traveled to Osa Peninsula with friends and watched the wild Scarlet Macaws eat almonds out of the trees. They broke open the outer coating and dropped the shells onto unsuspecting sunbathers below. They jetted from tree to tree, streaking the sky with red and blue feathers. We then fished in the Gulfo Dulce and caught a Jack fish that was eaten over a bonfire on the beach. This trip left a lasting impression with our friends and they've been back every year since.
But one of my favorite visitors was my mother-in-law. A playful woman who loves the water and enjoys riding the waves. We took her to Playa Negra, a beach known for the best place to boogie-board. There I watched as she rode wave after wave into the shoreline, only stopping to catch her breath and watch the pelicans dive into the sea for their lunch. She went for hours, eventually wearing me out; my sunbaked body exhausted from the heat and longing for a cool shower.
I took my mother-in-law from beach to beach, vendor to vendor, where she bought anklets for her grandchildren and a shell necklace for a girlfriend. She said she wants to wear something to remember this trip, and is already making plans to return.
The most stressful part about having visitors is hoping they love this country the same way I do. Not looking down at the potholes but up at the monkeys instead. Sometimes when you visit a new place, you get stuck on what the differences are; always comparing it to the place you currently live. It's never a good idea to do that, for you will always find something not to like. So I've been lucky that the people who visit me are anxious to return, and leave Costa Rica knowing it is one of the most unique places on earth.
I hope I played a hand in this. In the meantime, I'll keep emailing pictures of sloths and monkeys, sunsets and surfers, to all my friends. It's the best endorsement I have, and so far it's been working.
Just look at my mother-in-law's face. I'm pretty sure she'll be back.