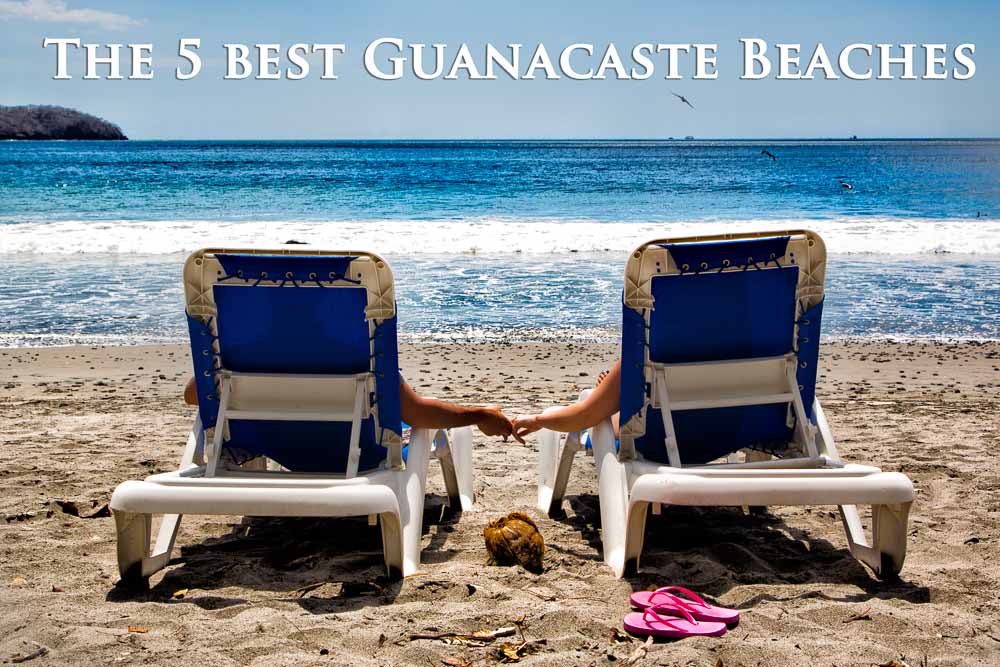 Costa Rica Costa Of Living Update: Boogie Board—$80
Choosing your favorite beach in Costa Rica is like trying to pick which of your children you love the most. I've overheard heated debates on which sand is the softest, where the best snorkeling spot is located, or what surf is the easiest to boogie board without smacking your head into a rock.
Since many of you are visiting this area for the Christmas holiday—and are looking to get out of your resort and travel to different beaches—this list should help in planning your excursions. It's best to fly into Liberia, Costa Rica since this international airport is the closest to these Guanacaste beaches. The San Jose airport is five to six hours away from this area.
I've compiled this "happier beach list" (my top 5 Guanacaste beaches) by using a thorough investigative team: my husband and I. We are authorities in how to waste a day away. I can sit on a beach (in the shade) for and entire day and feel like it was well spent. Give me a book and I might never come home. Rob will stare into every tide pool looking for new and interesting sea life… and he always finds something. These beach days clear my mind and help make me more appreciative of the little things. Gratitude comes easy when your toes are dipped into the warm waters of the Pacific Ocean.
5.  Tamarindo
You can't escape the fact that Tamarindo has become one of the busiest tourist towns in Costa Rica. That means more people on the beaches and more vendors trying to sell them souvenirs. You also can't deny that it has one of the best surf breaks in the world and making it the perfect place for learning to surf.
Experienced surfers love Tamarindo as well. My brother-in-law is an avid surfer and when he visited Costa Rica, his favorite place was Tamarindo.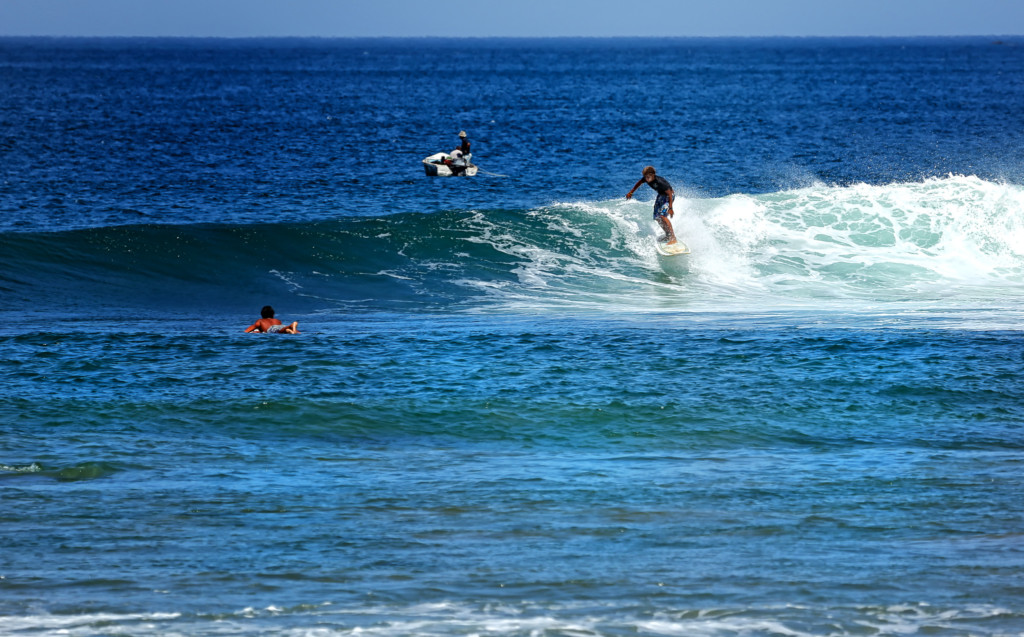 Another thing people love about Tamarindo is that there is no need for renting a car. All of the shops and restaurants are within walking distance. You will pass lots of surfers, and start wondering why you aren't one of them. With hostels ranging from as low as $12 a night to fancy hotels costing ten times more, a Tamarindo vacation can fit nearly any budget. You'll find an active nightlife here so bring your dancing shoes!
 4.  Flamingo
I like to call Flamingo "Tamarindo Lite." It is also a touristy town (25 minutes from Tamarindo) but with significantly fewer restaurants and stores. Many people travel to Costa Rica to get away from it all. Flamingo is a quieter location that still allows for easy access to the nightlife in Tamarindo.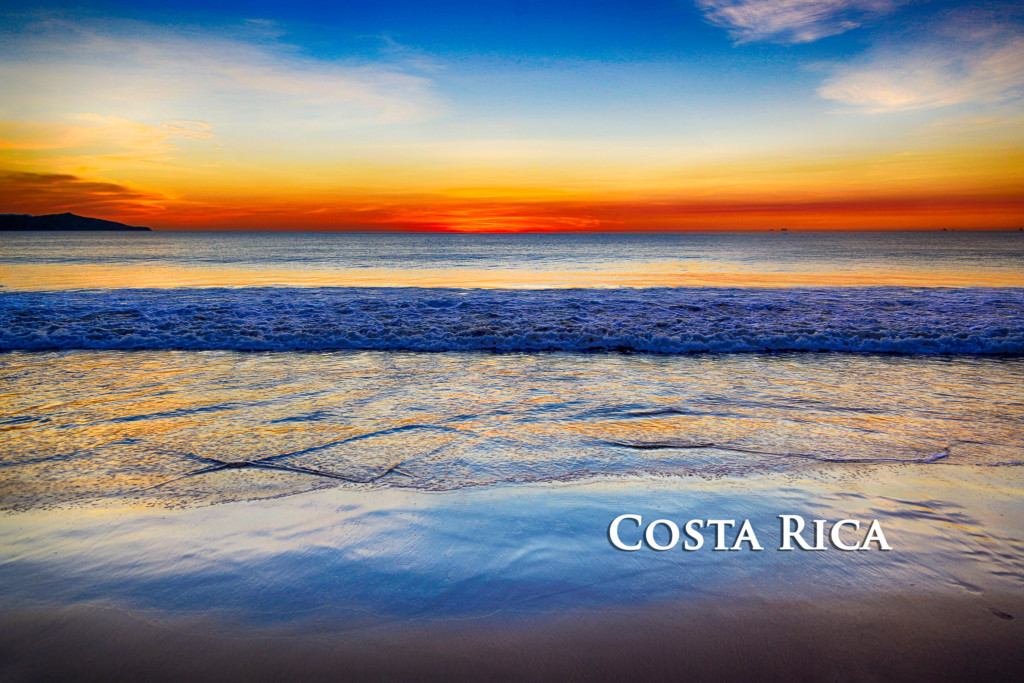 Flamingo Beach Resort is a Costa Rica all-inclusive hotel that is located right on the beach. It is also the perfect spot to get a massage, buy souvenirs, or rent jet skis. I've seen some of the best sunsets here. You can see more of Flamingo in our new Costa Rica cooking/adventure show, Building Up An Appetite on YouTube.
 3.  Playa Penca
This tiny beach is often overlooked but is one of the hidden jewels of Costa Rica. You'll rarely see anyone here, and for some reason, the water sparkles like someone tossed glitter into the sea.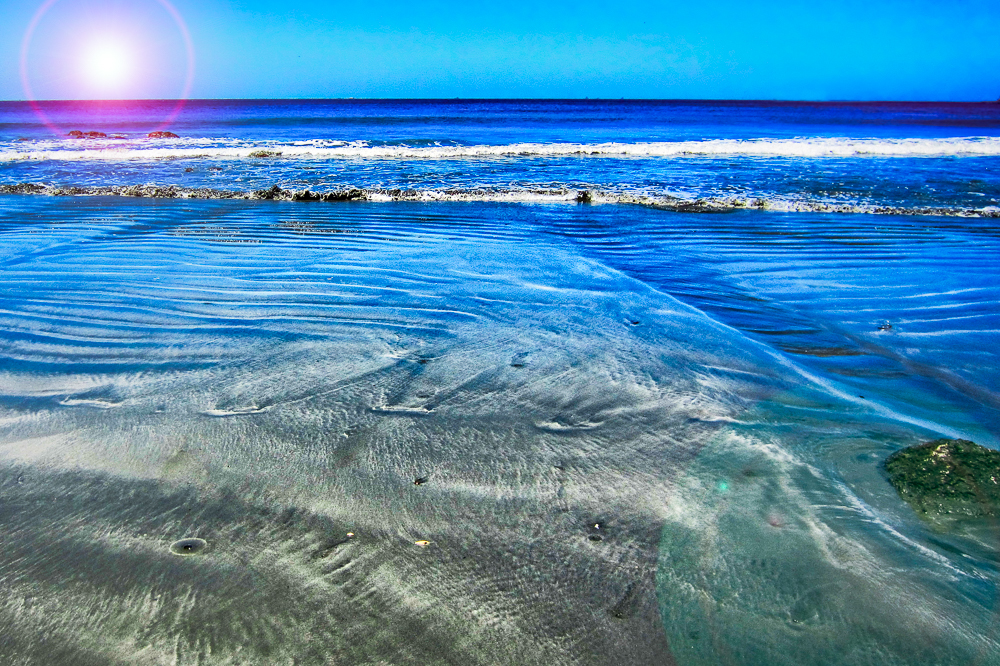 At the end of this beach, there are an outcropping of rocks. It's one of those in-the-know spots locals like to talk about and a great place for kayaking and snorkeling. Pack a lunch, prepare to spend a few hours, and I guarantee you are refreshed by the time you leave. You can feel the pura vida lifestyle here, and it was in this place where I decided to make my big move to live here permanently.
2.  Playa Conchal
It's hard not to mention this beach since everyone enjoys it… the Costa Rican people and visitors alike. The water is calm making it a great place for swimming and snorkeling. It is on this beach you will find the Costa Rica all-inclusive Westin Hotel, located within the beautiful Reserva Conchal development: a complex of condominiums, villas, and the Westin itself.
Reserva Conchal is a popular place for groups who would rather rent an entire condominium/ villa. It's a great way to enjoy luxurious living, while at the same time sharing the experience and expense with your friends. Eating out can be very pricey because there is a 23% tourist tax added to each bill  (13% Vat and 10% waiter's tip). So making meals in your own condominium is a great way to offset the cost of your vacation.
Playa Conchal is an excellent place to rent a beach chair and umbrella, wander off to the souvenir stands and do some shopping, or get a bite to eat at the local food vendor. Listen for the pipa frio man, and buy a cold coconut. Nothing … nothing feels more tropical than drinking from a coconut while sitting under a palm tree. It's like Gilligan's Island without the three-hour tour.
There is a secret spot on this beach that is rarely revealed to tourists. Walk out to the far, south end and you will find some of the best snorkeling in the area. Just swim out about twenty feet and on a clear day you will see lots of fish and all sorts of ocean creatures. (My husband got inked by an octopus here!)
Get hold of a kayak and paddle out to the rocks for even better snorkeling. It's where we made this video; It's A Big World (look for the octopus at the 5-second mark).
1.  Sugar Beach
By far, this is my favorite spot in all of Costa Rica. It's nestled in a cove off the beaten path, full of monkeys, iguanas, and we've even seen a herd of deer running across the sand. Some of my best pictures come from this beach.
If I weren't married already, I'd plan my wedding here. I once saw a couple getting married at the Hotel Sugar Beach (the only hotel in this cove). It was magical, and I couldn't believe the details the hotel paid attention to in order to make it a special occasion.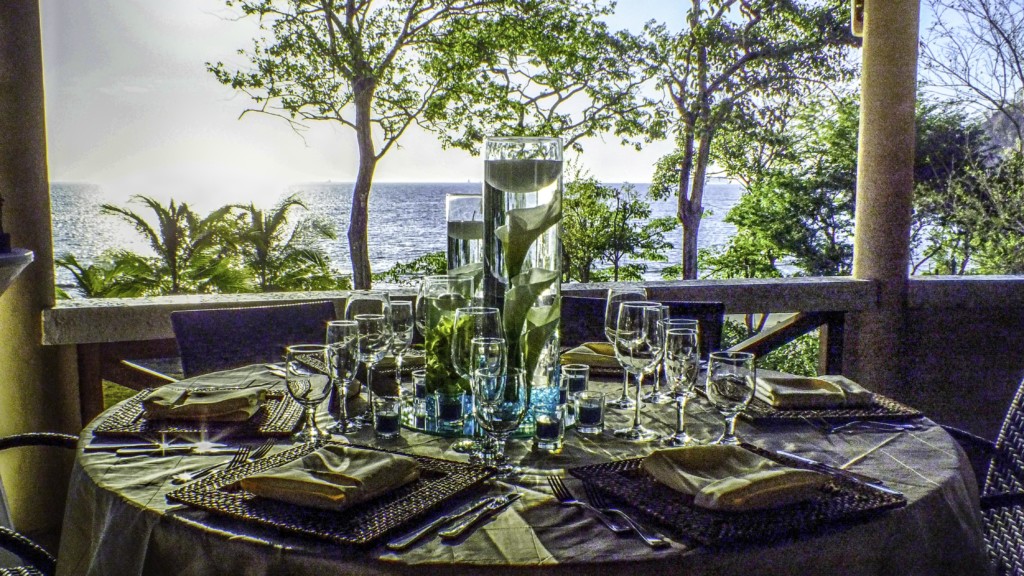 I'm grateful this hotel is there because, after a long day of boogie boarding, it's nice to sit in their ocean-view restaurant and enjoy a cool beverage. It's also one of the best places to watch a sunset.
Time seems to stand still at Sugar Beach. The ocean breeze has a way of stripping away your worries. Anxiety jumps off its victim and dissipates into the sea. This is a place to dream about the things you still want to do in your lifetime. It's a spot to reinvent yourself, and it's my favorite happy place.
What beaches do you like to visit? Whether they are in Costa Rica, the United States, or half way around the world, I would love to hear about it.
(For more information on great beaches all around Costa Rica, check out my new book, The Costa Rica Escape Manual.)
Subscribe to Blog via Email