Costa Rica Cost of Living Update: A six-foot yellow coconut tree—$12
I'm often asked for advice on how to travel like a local as opposed to a tourist. (It's as if the word "tourist" is a vulgarity, one which summons up images of guys wearing sandals with socks or rocking undersized Speedos on the beach). I'm always eager to help but this is a tough question.
The answer is not cut and dry since it all depends on how long you'll be here and what areas of the country you'll be visiting. If you are only visiting for two weeks, it may be more difficult to accomplish the goal of living like a local. But if you are settling in for 6 months or more, you begin to understand the ins and outs of living in the areas you will be visiting.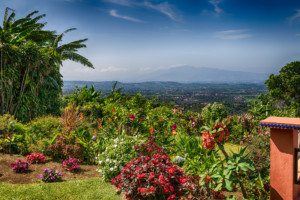 One of the biggest factors in cost is whether you are living in or visiting a tourist area. I live outside Tamarindo and it costs 25% – 30% more than when I lived in the mountainous town of Grecia. And if you'll be shopping inside of Tamarindo itself, it's safe to say things will be even more expensive. But that doesn't mean you can't still cut corners, only that you will have 25%-30% more corners to cut. Ultimately, it may even mean giving up more things that you were used to when living in your native country. But not to fret, you can still succeed in saving money by adopting a number of principles that I've learned over the years.
1. Grocery Stores
Let's use the grocery store for example. As in the Unites States, there are less and more expensive stores throughout my area. I remember going to Whole Foods in New Jersey with my sister and leaving with two small grocery bags totaling a whopping $70. I had sticker shock, which wasn't new to me since I'm constantly shocked by some sort of surprise every time I go home. It's like bumping into a friend from high school and being puzzled by how old he looks. I like to believe my face is as preserved as a jar of pickles, and has remarkably escaped the passage of time. But eventually I see a picture of myself and conclude that my friend actually looks better than I do. I haven't preserved anything, I'm a fermenting cucumber just like everyone else.
I believe Whole Foods is a perfect example: An average shopping trip in Whole Foods is not the definitive cost of living in the United States. You don't have to shop there if you don't want to.
Automercado in Costa Rica is the cost equivalent to Whole Foods in the United States. It carries many imported items you can't find anywhere else, thus being more expensive. But what a delightful store it is, an FAO Schwartz for the beleaguered gringo: air-conditioned aisles, plentiful junk food sections, and relaxing music piped in from above. My friend and I actually once marveled over a $12 package of fresh asparagus in the produce section. We were each secretly hoping the other would buy it, but alas, we both walked away empty handed.
There are other less expensive grocery stores in my area to shop at and many of them have pretty good sale days. One has meat and poultry for half price on Sundays, while others will have sales for produce on Saturday. This is one way you can get around paying those higher prices.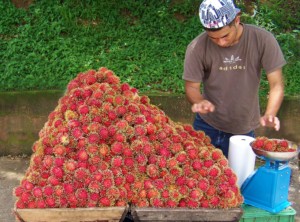 One step better, frequent a farmers' market and you will find even bigger discounts. If you are like me when I was living in the States, you might be so busy that one stop shopping is all you have the energy for. But since moving to Costa Rica—and having more time on my hands—I don't mind following these rules when trying to save a buck. I didn't come here to recreate my life, I wanted to be open to new experiences and new ways of doing things, even if that meant waving a tearful goodbye to asparagus.
Of course trying to figure out sale days or finding the least expensive farmers' markets during a week's stay at the Marriott could prove difficult for the average tourist. Many leave Costa Rica with the impression that things are much more expensive than they really are. And even some expats find it hard to resist the more expensive stores that offer such rich delicacies and polished aisles. If you've read my books, you'll remember the story of my parents visiting me in Costa Rica and having a heated argument over buying a $5 carton of half and half. My mother wanted it, my father said it was too expensive, and I walked away pretending not to know either of them. In the end, my mother won.
What I love about this place is that a large part of an expat's budget is up to the expat. Clearly living in a quaint mountain town will put you in a different expense bracket than if you reside in a touristy enclave, run your A/C all day, and shop at fancy stores.
2. Gasoline
Another major part of a Costa Rican budget is gas: it is expensive here guys, REALLY expensive. It can easily be over $5 a gallon so you will find many expats carpooling or trying to accomplish all of their errands in the same day. Whenever one of us is out and about, we usually call our neighbors and ask if they need us to pick up something for them. I don't recall ever doing this back in the United States.
"Hey Jackie, I'm in the supermarket. How are you on toilet paper?" are words that never left my mouth while living in Pennsylvania.
In most areas Costa Rica offers very inexpensive and excellent public transportation. Locals usually do not drive more than they have to. Many will use motorcycles for just about everything including transporting those fifteen foot strips of rebar they'll need to start building a new casita. As a visitor, it is unlikely you'll be delivering any construction materials, but renting a scooter could be a less expensive alternative when compared to renting a car.
(This is, of course, my husband's idea of saving money by using our scooter)
3. Eating Out
I recently wrote a blog post about enjoying a $5 lunch at Soda Brasilito. I was surprised by the reaction I received from many tourist and expats alike. It was as if sodas (small Tico -style restaurants) do not even exist here. Eating out can be costly, but not if you frequent these small mom-and-pop restaurants. They are not fancy and sometimes not much to look at, but trust me, I've had some of the best meals there. Tourists have a tendency to skip over these establishments because of their simple appearance.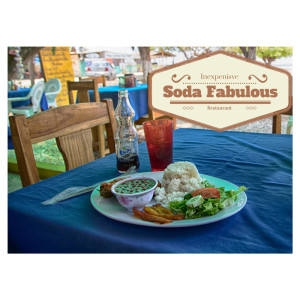 If you have the luxury of being in one place for a while, you will find that the good ones usually fill up everyday at lunch or dinner time. While there may not be a swanky chandelier overhead or a huge endless pool in front of you, the food is usually fresh and delicious. This being said eating out is, and has always been, a luxury for me so it is an easy thing to partially cut out of my budget. Rob and I eat home as often as we can.
Same goes for heavy drinking. If that is part of your daily lifestyle, be prepared for a heavy bill at the end of the night. Closing time now means closing out your bank account.
4. Housing
Housing is much more expensive at the beach, but it's also where we found a caretaking gig in exchange for very low rent. I know people who house sit and don't pay any rent. Can you get these positions? Perhaps, but it becomes more likely if you've already lived here for a few years and have residency. Without a house sitting position, rents can range from $400 a month for one bedroom to upwards of $3000 a month for an ocean-view 5 bedroom, 5 bath home. I've never lived in a house that big, but I know for certain my husband would use every one of those rooms. He has a knack for getting as many things dirty in a 24 hour period as humanly possible.
"I like the air in this master suite, I shall sleep here tonight," I imagine him saying. "However, I'll use the downstairs bathroom, but with the guest room's fluffy towels."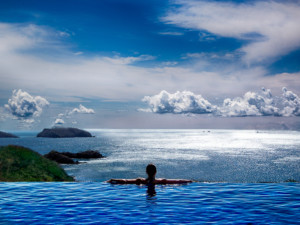 When considering housing costs and comparing it to towns around the United States, it is important to compare apples to apples. Three thousand a month sounds very expensive in terms of Central America until you realize the home is in a community with 9 restaurants, swim up bars, a helipad, golf course, and it's sitting right on a Blue Flag Beach with a spectacular ocean view. I'm not sure if these places even exist in the States. I suspect they do but I have never been able to get myself through their front gates.
5. The Good Life
While trying to decipher all of the ways you can save on your budget, one thing is profoundly true about living in Costa Rica: The best things in life are free. Listening to howler monkeys every morning, taking a dip in the ocean, and watching some of the most spectacular sunsets doesn't cost me a thing.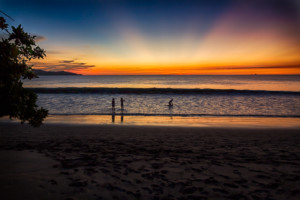 There is tremendous value in living my life like this: a life that is a bit slower, but also much fuller than ever before. For some reason, expats never include these amenities in their long list of gripes about living here. Getting to see coatis scamper in my neighborhood, or an anteater roaming right outside my door makes me feel incredibly wealthy. This never gets old, at least not for Rob and I. We continue to marvel at the natural wealth that this country so graciously lends to us. In a way, we've never stopped being tourists.
Maybe it is best to live like a local when it comes to your budget, but maintain the awe and curiosity that tourists possess when visiting a country for the first time. For me this is the perfect balance for a happy expat life. And I can do it all without my husband ever having to squeeze into a Speedo.
(If you want more tips on moving to or visiting Costa Rica, please check out my latest book, 2016 edition of The Costa Rica Escape Manual)