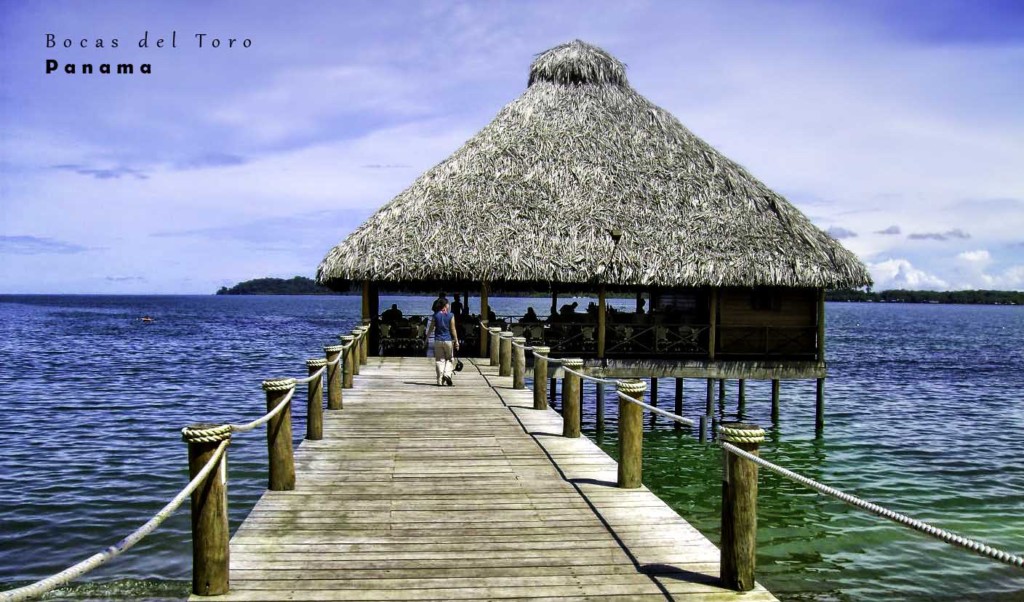 Costa Rica Cost of Living Update: Bus Ticket from San Jose to Panama City — Under one hundred dollars
There has always been a debate on whether Panama or Costa Rica is a better choice for expats. People will hunker down with their opinions and list all the many ways one country is better than the other. You would think it's the World Cup. No one has flipped any dumpsters yet, but these discussions get pretty heated.
"Bananas are cheaper in Panama," someone yells.
"Yeah, but look at our beach towns and lifestyle. Ticos really know how to enjoy themselves!" another responds.
I just sit back, eat to my slightly more expensive banana, and stare into space. I have no dog in this fight. Unlike what many people think, it's not my mission to convince anyone to move anyplace. Happier Than A Billionaire is about finding a happier life, and mine just so happened to take place in Costa Rica. If it occurred next to an oil drum in Bayonne, New Jersey I would have written that version of my story.
The truth is that becoming an expat has many variables. Success has more to do with your attitude than what particular country you are moving to. Learning a new language will be difficult, reinventing a new life is challenging, but the biggest obstacle is always going to be yourself. To assimilate into a new culture often means you have to experience things on the fly. And that means letting go of who you had previously defined yourself to be.
Take Kay Bratt; author of The Pursuit of Panama, a wildly successful writer who, with her husband, went through their own adventures in Panama. For two weeks, they explored the country wondering if moving abroad was the right decision for them. In her journey, Kay wrestles with her version of happiness. The question she set out to answer was whether or not Panama was going to be her happy place. She was inspired in part by reading my books and hopefully learned not to let her husband shove twelve thousand dollars into his underpants during their travels. Or hide any guns in a functioning fireplace.
We are all looking for that happy spot in life. It's a moving target. A place that was once warm can grow cold. When that happens, it's time to move on, and moving on could mean moving out, changing jobs, or even leaving old friends behind. This line of sight is never straight, and often means you have to bend in the wind in order to hit the bulls-eye.
People often ask me how I got the courage to leave my old life behind for a new one in Costa Rica. A foreign place, a foreign language, and with no guarantee it would work out. But there was this moment when I realized it was riskier not to do it than to take a chance. I knew if I didn't break out of that stifling lifestyle, I would look back at the moment and have profound regret. I saw a beacon of light through a foggy time in my life, and its soft beam gave me hope.
I still follow that beacon even though there is little fog left in my life today. The skies are bright in Costa Rica, and the sunshine lightens up even the darkest corners. But at night I still see it. The beacon calls out for me, reminding me to keep dreaming, to keep being happy, and to keep remembering that life is in constant flux.  Ebbing and flowing is always the best way to ride a wave, but you have to paddle out to sea before you can go with the flow.
So if someone chooses to debate me on whether Bocas del Toro has better snorkeling than Playa Conchal Costa Rica, which it does, or if they have more volcanoes to hike, which they don't, I'll just rock in my hammock and continue staring up at the powder blue sky.  I'm not here to argue, or convince anyone that their ideas are wrong. There is room enough for everyone on this journey, and I'm still bending in the wind on mine.
If you are thinking about a move to Panama, or even just dreaming of what such a change might be like, you can find Kay's latest book, The Pursuit of Panama, here on Amazon. I'm sure you will be inspired by Kay as well. http://amzn.to/2w2Qd0L
And while I'm not here to convince you to move to Costa Rica, if you would like to come along with me on my hilarious journey please read Happier Than A Billionaire and The Sequel. If you are inspired to join me in Costa Rica, you may also enjoy my guide to living here with everything I've learned over the past nine years, The Costa Rica Escape Manual.  http://amzn.to/2eQeO5g