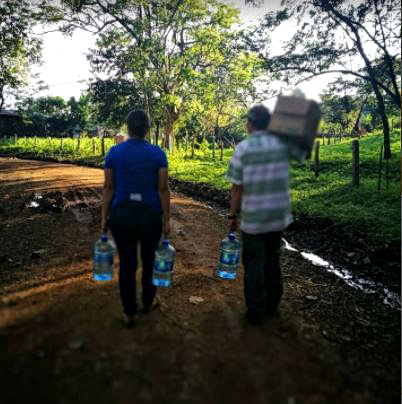 Costa Rica Cost of Living Update: A five dollar donation will feed a family
"Did you know we are getting hit with a cyclone today?" I asked Rob.
"No. Is it going to be bad?"
"I think so, Rob."
Two weeks ago Costa Rica was hit by a tropical storm that brought upwards of 20 inches of rain. Storms like this are very rare in Costa Rica and I'm not sure anyone was quite prepared for it. The rain terrorized mountains, overflowed rivers and rumbled like a locomotive barreling throughout the countryside.  Many people in heavily affected areas escaped their homes with only the clothes on their backs. It lasted three days, and in those three days, we knew people would need help.
Dr. Andrea is a local physician in town who is doing incredible work. She is bringing much needed medical attention and supplies to the hardest hit areas. I know her personally and have written about her in my latest book, The Escape Manual as our trusted family physician. During one of her missions, she came across a blind and disabled man who lost his wheelchair in the flood and was sleeping on a soaking wet mattress. She was able to replace both. This is the kind of help that is needed and she is the angel that is organizing it. Dr. Andrea has created a GoFundMe Page and I'm asking you all to join me in providing help in any way you can. No matter how small, every donation will help and with a healthy number of volunteers all the money is going directly to the people in need.
For those planning a vacation, rest assured almost no tourist areas were affected by the storm.  Damage was isolated to certain spots and as with most disasters, the poor always suffer the most. If you haven't planned a trip yet, please consider it! The people here depend on tourism.  They are eager to assist you with that once in a lifetime fishing trip, an incredible tour of the rainforest, or a rejuvenating waterfall hike. They love their country and love to share this incredible beauty with all of us.
This year has been especially challenging for many around the world, and sometimes it can be overwhelming when you want to help but are unsure where your money is going. Please know that every penny of your donation will be used in the right way. I can see the incredible work being done and know many of the volunteers personally. Your donation will provide dry clothing, new mattresses, home repairs and food.  It will help those who are most vulnerable.
I can't thank you all enough for your support. God bless and, as always, pura vida.